• bracelet • diamond • engagement rings • gemstone jewelry • jewelry • jewelry care • jewelry stores • necklace • rings • riverside jewelry repair • wedding rings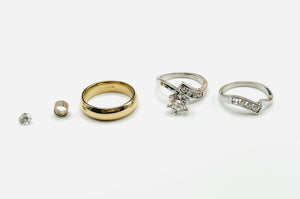 Before we get into the details of what you should do with your existing jewelry, we'd like to go over the value and meaning of jewelry and its significance. Importance of Jewelry in our Society Jewelry is an accessory that not only adds oomph to your attire, but also has monetary while it can associate one with specific ethnic, religious or social affiliation. Jewelry offers stunning elegance, which brings glamour to our lives, and is oftentimes cherished from one generation to the next.  However, like any ornament, jewelry can go out of style or becomes dull and worn out overtime....
---
• color coordination • colored gemstones • diamond • gemstone colors • jewelry color coordination • jewelry coordination • necklace • rings • wedding rings
Have you ever considered how well her purse goes with what she is wearing? Or how distinguished he looks with the tie he chose to sport with that brown jacket? In our previous color coordination article, we covered the details of matching the colors of your clothes with your jewelry. It is also important to consider what jewelry colors work best with your skin tone and complexion. In this article we will help you identify which skin tone you have and what jewelry might stand out best! First, let's determine your skin tone. Jewelry for Cool Skin Tones Have you...
---
• Birthstone • colored gemstones • gemstone colors • necklace • rings
My daughter, Nada, was born in March, the month of Aquamarine. When she become of age to wear jewelry, I started building her wardrobe with Aquamarine Jewelry pieces. However, I noticed that she never showed much excitement. When she became a teenager, ten years ago, Black Diamonds became noticeable in the market and became an option for fine jewelry. Nada started working with me when she became sixteen years old. At that time the color pink was also very fashionable, such as pink topaz, pink tourmaline, pink sapphire and even pink cubic zircon that was commercially named as pink ice....